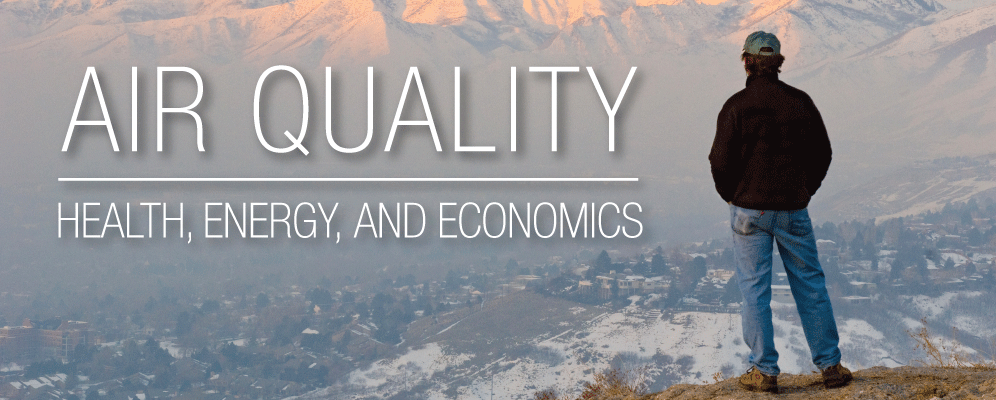 Register online here » or call Erin (801) 585-3440

Rose Wagner Performing Arts Center, Salt Lake City, Utah
Thursday, March 5 from 7:00 a.m. to 5:30 p.m.
Friday, March 6 from 7:30 a.m. to 12:30 p.m.
The Stegner Center's twentieth annual symposium focuses on Air Quality: Health, Energy, and Economics. Across the nation, great strides have been made addressing air pollution over the last several decades, especially following adoption of the federal Clean Air Act in 1970.  Nevertheless, in the West and elsewhere, air quality remains a vexing environmental, economic, and public health dilemma.  Families in polluted areas face asthma and other health risks, businesses choose not to locate because of air quality concerns, and the overall quality of life is diminished. This Symposium will examine the multifaceted problem of air pollution, with panels and speakers addressing its causes, health and environmental impacts, tensions with energy needs and economic development, its relationship with social structures and ethics, and possible legal and regulatory solutions.  The Symposium, as usual, is interdisciplinary, with speakers from the sciences and social sciences, academia, government, industry, and the legal profession.
Symposium Agenda
Thursday, March 5, 2015, Rose Wagner Performing Arts Center
7:00 a.m. – Registration and Continental Breakfast
8:00 a.m. – Welcome and Introductions
8:15 a.m. – The Clean Air Act—Origins and Directions
Alice Kaswan, University of San Francisco
Robert Percival, University of Maryland
David Schoenbrod, New York Law School & American Enterprise Institute
Ann Weeks, Clean Air Task Force
9:45 a.m. – Break
10:15 a.m. – The Persistent Problem of Air Pollution—Air Quality and Public Health
Kevin Cromar, NYU School of Medicine & Marron Institute of Urban Management
Norman H. Edelman, American Lung Association & Stony Brook University
John Watson, Desert Research Institute
11:45 a.m. – Commemorating the Stegner Center Symposium: The 20th Anniversary
Robert Keiter, Stegner Center Director
12:00 p.m. – Lunch (On Your Own)
1:30 p.m. – The Center of the Crisis—Economic and Ethical Tensions
Jeff Holmstead, Bracewell & Giuliani
Michael A. Livermore, University of Virginia
George D. Thurston, NYU School of Medicine
2:45 p.m. – Break
3:15 p.m. – The Dilemma's Frontiers—Energy and Climate
Sanya Carley, Indiana University
Penelope Crossley, University of Sydney
David B. Spence, University of Texas at Austin
4:45-5:30 p.m. – Keynote: Air Pollution and Human Health—Science, Public Policy, and Controversy
C. Arden Pope, Brigham Young University
Friday, March 6, 2015, Rose Wagner Performing Arts Center  
7:30 a.m. – Continental Breakfast
8:00 a.m. – Air Quality in the West—Energy Extraction, Population, and Transportation
Todd Aagaard, Villanova University
Seth Lyman, Utah State University
Vickie Patton, Environmental Defense Fund
9:30 a.m. – Air Quality, Health, and Society: University of Utah Honors College Praxis Lab Presentation
9:45 a.m. Break
10:15 a.m. – Forging Solutions? The Wasatch Front as Microcosm (Moderated Roundtable)
Moderator: Jennifer Napier-Pearce, The Salt Lake Tribune
Participants: Bryce Bird, Utah Division of Air Quality; James A. Holtkamp, Holland & Hart; Ben McAdams, Salt Lake County Mayor; Brian Moench, Utah Physicians for a Healthy Environment; Stephen C. Sands II, Rio Tinto-Kennecott Utah Copper; Kathy Van Dame, Wasatch Clean Air Coalition
11:45-12:30 – Keynote: Old Statutes, New Problems—EPA's Creative Adaptation of the Clean Air Act to Address Climate Change
Jody Freeman, Harvard Law School
Registration Fees
General Public: $150 early (February 17) / $175 (February 18)
Seniors, Education, Government and Nonprofit: $125 early (February 17) / $150 (February 18)
Students: $50 early  (February 17) / $75 (February 18)
9.5 hours CLE. Registration required. For questions contact Erin 801-585-3440.
We encourage you to use public transportation to our events.
TRAX –  Take Trax line to Gallivan Plaza Trax stop and the Rose Wagner Performing Arts Center is two blocks west of the station.
Bus Routes – visit the Utah Transit Authority website:  www.rideuta.com for specific bus schedules
Paid parking is available at this nearby parking garages:  http://www.arttix.org/parking/index.aspx
Wallace Stegner Lecture
Against All Odds: Why America's Century-Old Quest for Clean Air May Usher in a New Era of Global Environmental Cooperation
Robert Percival, University of Maryland
Wednesday, March 4, 2015, 12:15 – 1:30 p.m.,
Sutherland Moot Courtroom, S.J. Quinney College of Law
This lecture is free and open to the public. No registration required. Lunch provided. 1 CLE (pending).
Visit the Wallace Stegner Lecture website for more information.

Principal Funding
R. Harold Burton Foundation
Cultural Vision Fund
Sponsors
S.J. and Jessie E. Quinney Foundation
ABA Section of Environment, Energy and Resources
The Nature Conservancy in Utah
Natural Resources Law Forum